A BOOK THAT CAN SAVE LIVES!
Click cover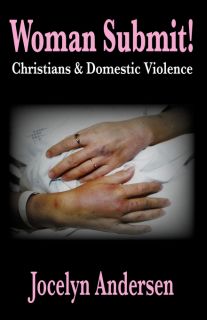 Woman Submit! Christians and Domestic Violence was written with the Christian Community in mind, but the principles contained within this book are timeless and useful to compassionate persons of any religious persuasion when dealing with the sin and trauma of domestic violence.
READ THE FIRST CHAPTER OF WOMAN SUBMIT!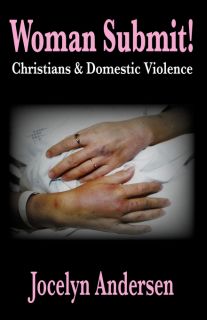 Response to a Sample Chapter Posted online:
"For 6 months I have been free from a destructive relationship, and reading your text confirmed to me again that I should not go back. I will print the text and keep it for weak moments. Thanks for posting it on the internet!"
Journalist, Norway
Reader Response to WOMAN SUBMIT!
Wow! I opened your book and couldn't stop reading it. I read it right through to the end and every single chapter resonated with me. I intend to read it again. What a powerful testimony. … I had been in the relationship for 18 years and it took me 4 years to leave so I totally understood the chapter on addiction and obsession…the shame and everything you described, that was me. … I thank you for sharing your story and giving hope and a voice to others like myself. I have chosen to no longer accept abuse in my life. -M




...I am a Christian woman. My husband is abusive and sometimes violent. What do I do?
...I believe someone I love is being battered or abused, what can I do?

Written from a biblical perspective by a formerly battered Christian wife, Woman Submit! answers these questions and more.
"I believe this book could actually save lives."
~~Elreta Dodds
Author of Is God A Chauvinist?
"I pray this book starts a revolution!"
~~Earl Gooden
The Bottom Line Radio Broadcast
Her sometimes controversial take on suggested Christian women's response to conventional church wisdom on the topic of domestic violence has often caught the evangelical world off guard -- but she's undaunted.
~~Ed Thomas
One News Now
"I am sooo pleased that you developed this book. I have been working in the Domestic Violence field for over 20 years and have been wishing for a resource like this..."
~Attorney and Victim's Advocate, AZ
"I read the book and was just overwhelmed! It brought back a lot of those old feelings, but at the same time, explained some things I hadn't yet gotten a handle on...I think the book is wonderful."
Kathy Isler
Artist, Former Battered/Abused Wife
"I was ecstatic to see your book! I have lived it. When I told my church I was leaving they told me to go back...When he battered me badly enough I filed for divorce, they told me I would undergo church discipline...."
~Lori, R.N.





What People Are Saying About Woman Submit!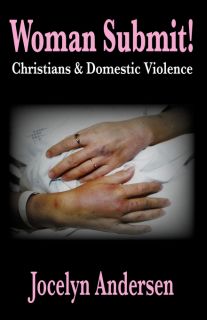 I passed your book along to a friend with six children and presently has restraining orders in place against her husband. She loves your book, and I think for the first time actually got a real picture of an abused woman through a Christian view that was relevant to her.

~~A Concerned Friend
Church traditions, attitudes may hinder help for domestic violence victims (part 2) ...Listen to ONE NEWS NOW report here
Andersen presents the victim and the survivor with a great path to get out of their situation and how to begin the healing process afterwards by looking to God and Jesus. Reading her story and struggle, that is interjected throughout the book, helps you feel that you are not alone.
Jeanette Stingley
Domestic Violence Editor, BellaOnline
The church need not enable abuse...Andersen's book shows how individuals and the church can help stop this perversion. She includes many interesting and vital aspects of the phenomenon and its more effective handling...
Patty Inglish