For Satan himself is transformed into an angel of light...therefore it is no great thing if his ministers be transformed as the ministers of righteousness...
click cover for Amazon.com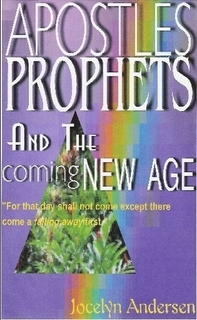 Apostles Prophets & the Coming NEW AGE
Apostles Prophets And The Coming NEW AGE
"The Bible has become an Idol!" "God is bigger than doctrine!" "The church is so hung up on Bible study, they don't know Jesus!"
These are just a few of the things we are hearing from proponents of several popular movements sweeping through the Church today. Entire denominations are accepting the teachings of these movements and, as a result, Christians are defecting from historical, Biblical, Christianity in alarming numbers. This book takes a close look at the roots of these movements, and in the light of scripture, examines the philosophy and practices behind Spiritual Formation, Contemplative Spirituality, the Prophetic Movement and much much more.